OMM For Pregnancy, Newborn, and Toddlers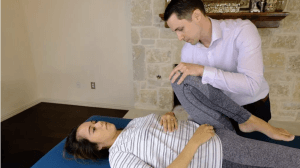 We at Integrative Pain and Wellness Center know that pregnancy, followed by your baby's arrival into this world, is one of the most exciting times in your life! Unfortunately, many medical problems can dampen this joyous time. Let us help you or your baby conquer your medical problems so you can focus on what matters most! Our practice philosophy combines alternative and conventional medicine for the perfect balance of integrated and holistic medical care. Our goal is to optimize your health, while minimizing the side effects of treatment. 
One of our primary treatment modalities is Osteopathic Manipulative Treatment (OMT). We look for areas of restriction throughout the body and use many different treatment modalities to restore normal structure and motion to improve function. Our techniques address the muscles, bony joints, ligaments, myofascial tissues, organs, lymphatic system, and head (techniques include Osteopathy in the Cranial Field). 
Read more to see how we can assist with problems in pregnancy, postpartum, newborns, and toddlers. 
Pregnancy 
We admire all women who choose to make such a tremendous sacrifice to bring children into this world. The many hormonal and biomechanical changes that occur during pregnancy are well known. These natural changes often cause pain and other problems in expecting moms. Just because pain is common, does not mean you cannot do anything about it. Osteopathic Manipulative Treatment (OMT) is a safe and drug free way to help alleviate pain and other common problems during pregnancy. 
Common problems treated with OMT during pregnancy:  
Pain from head to toe (including headaches, neck pain, back pain, joint pain, pelvic pain, etc) 
Upper or lower extremity swelling 
Carpal tunnel syndrome 
Difficulty breathing 
GERD (Heartburn) 
Constipation 
Postpartum 
So, now that you have been through the miracle of birth all of your pregnancy related problems should be gone, right? Many patients report that their hips or sacrum feel off after labor or have pain following an epidural. And now that your baby is no longer in utero, means you are spending much of the day holding them in your arms or in awkward positions trying to nurse. While low back pain is more common during pregnancy, neck and shoulder pain usually get worse after delivery. Let Integrative Pain and Wellness Center take care of you so you can take better care of your baby! 
Common problems treated with OMT in postpartum patients:  
Pain from head to toe 
Joint instability 
Postpartum depression/baby blues 
Anxiety or stress 
Newborns 
There is nothing more precious in this world than a newborn. The journey it takes to get here is not an easy one. As each day passes in utero, there is less and less space for your baby to move around. Whether your baby was born vaginally or by c-section, the birth process is often quite traumatic and can cause musculoskeletal problems. A research study showed that greater than 90% of healthy newborns examined between 6 and 72 hours of life had somatic dysfunctions (misalignments in the body) of the head, neck, or lower back regions. We believe that every newborn should be evaluated shortly after birth to help decrease the chance that these somatic dysfunctions turn into problems. 
Common problems treated with OMT in newborns:  
Feeding difficulties (latch on problems, tongue/lip tie, swallowing problems) 
GERD 
Colic 
Plagiocephaly (misshapen heads) 
Torticollis or other muscle tightness 
Toddlers 
Now that your little one is getting bigger and crawling or walking, they are bound to fall and run into all kinds of things. These mini traumas can cause new strains in your child's bodies affecting their ability to move effectively. This is also a common age when children suffer from ear infections. In newborns and toddlers, the eustachian (ear) tubes are oriented more horizontally making them more prone to ear infections. If the bones in the head are also restricted, this can increase the risk of infections. We can help to restore normal structure to allow the body to work as it was designed to. Our goal is to minimize the need for antibiotics as research shows harm from too frequent use, but we are also trained to know when they are appropriate and can prescribe them if needed. 
Common problems treated with OMT in toddlers:  
Ear infections 
Allergy/sinus problems 
Pain from head to toe 
Problems with crawling or walking 
Constipation 
We believe so strongly that all babies should be evaluated and treated that we offer our pregnant or recently delivered (within the last month) patients a free evaluation and treatment for their newborns first visit. It's our birthday present to your baby!