ABOUT OMT FOR PREGNANCY, POSTPARTUM, AND EARLY CHILDHOOD
Pregnancy and childbirth are two of the most exciting, life-changing journeys a woman can experience. While this is a miraculous time in any person's life, pregnancy and childbirth can also bring about certain medical conditions that can dampen the joyous occasion. By incorporating advanced osteopathic techniques, our team at Integrative Pain and Wellness Center in Southlake, TX and serving the surrounding areas of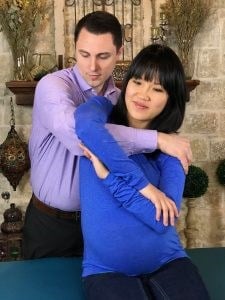 Midland, and Odessa, TX aims to reduce your pain and complications to allow you to make the most of this time in your life. To enhance your comfort throughout your pregnancy and the postpartum period, we combine conventional medicine with holistic techniques. Our goal is to optimize your health while minimizing the negative effects of pregnancy.
Utilizing osteopathic manipulative treatment (OMT), we look for areas of restriction throughout the body and employ different modalities to restore proper function. Depending on where you fall in your pregnancy, we incorporate different techniques to address your unique needs. Osteopathic physicians Dr. Matthew Barker and Dr. Melanie Gray can't wait to help make this stage of your and your baby's life enjoyable and easy.
Reviews
"We have had a great experience with Dr. Barker! Our newborn had a tongue and lip tie revised, and Dr. Barker worked with her to relieve restrictions. In three sessions, she has gone from a poor sleeper in constant discomfort to a happy, relaxed baby. He helped loosen up her tongue restrictions and she is nursing much better (and my pain is gone)! I highly recommend Dr. Barker."
- K.P. /
Google /
Jun 24, 2020
"Dr. Barker has helped me turn my health around without the use of harmful medications. I was diagnosed with RA and didn't want to take the meds with horrible side effects. He has helped get my RA under control, I am off my cholesterol and blood pressure meds. He has helped with hormone treatment which has improved my life tremendously. And at the young age of 60 I feel fabulous thanks to Dr. Barker."
- C.F. /
Google /
Feb 05, 2020
"Dr. Barker is a very friendly, thorough, and talented provider. I'm very satisfied with the pain relief I've experienced from his treatments."
- L.C. /
Google /
Jan 05, 2020
"Dr Gray is great at what she does! Give them a try."
- S.B. /
Facebook /
Jun 01, 2022
"She did a great job, you deserve an accolades on this Mrs Cathy Frederick can't explain myself right now, what I received on my wallet was so great an amazing of the huge amount, Please all you have to do is to contact her and be a part of this online investment. I made $5,550 just little investment of $700, I made that thanks Mrs Cathy Frederick her info Email: [email protected] WhatsApp: +18504466717"
- M.L. /
Facebook /
Feb 20, 2022
Previous
Next
If you're an expecting mother, have recently given birth, or have a young child with certain difficulties, you and your child may benefit from osteopathic manipulative treatment. We utilize techniques that are precise and delicate enough for newborn babies, toddlers, and adult women.
Complications that can be reduced or eliminated in pregnant or postpartum women include:
Pain from head to toe, concentrated in the head, neck, back, joints, pelvis, and more
Upper or lower extremity swelling
Carpal tunnel syndrome
Difficulty breathing
Heartburn
Constipation
Depression
Anxiety or stress
Decreased milk supply
Acute mastitis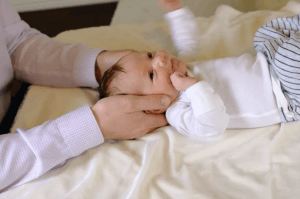 Meanwhile, issues that can be addressed in newborns and toddlers consist of:
Feeding difficulties (latching problems, tongue/lip tie, swallowing problems)
Heartburn
Baby colic
Plagiocephaly (misshapen head)
Torticollis or other muscle tightness
Ear infections
Allergies or sinus problems
Pain from head to toe
Problems with crawling or walking
Constipation
OMT FOR PREGNANT AND POSTPARTUM WOMEN AND BABIES
OMT for pregnant women, postpartum, newborns, and toddlers vary greatly because each of these groups has different needs and concerns. During a private consultation with Dr. Barker or Dr. Gray, we will ask you in-depth questions about your symptoms and any other problems you may be experiencing. Once we identify the underlying cause, we will then use our hands, the core foundation of osteopathic medicine, to relieve and address your issues. To treat newborn babies and children, our team uses a very gentle but effective approach, gently treating the target areas to improve function and give relief.
OMT for Pregnancy, Postpartum, and Newborns FAQ
Is OMT safe for newborns and toddlers?
Yes, OMT is considered safe for newborns and toddlers when performed by a trained and experienced osteopathic physician like Dr. Barker or Dr. Gray. They are skilled in treating individuals of all ages using gentle and appropriate techniques for their delicate bodies.
How soon after birth can newborns receive OMT?
OMT can be performed on newborns soon after birth, even within the first few days or weeks of life. Parents may seek OMT to address common newborn issues such as breastfeeding difficulties, colic, or musculoskeletal imbalances resulting from the birth process.
When should postpartum mothers consider OMT?
Postpartum mothers may consider OMT at Integrative Pain and Wellness Centervarious stages following childbirth. Some may benefit from OMT soon after childbirth to address immediate issues such as pain, discomfort, or breastfeeding challenges. Others may seek OMT later in the postpartum period to address ongoing musculoskeletal concerns, pelvic floor issues, issues with mood and anxiety, and more.
How is OMT performed during pregnancy?
OMT techniques for pregnant women are gentle and specifically designed to accommodate the physiological changes occurring in the body during pregnancy. Our osteopathic physicians may use techniques such as myofascial release, soft tissue stretching, gentle joint mobilization, and craniosacral therapy. The treatment is usually performed with the patient lying in a comfortable position, and the physician applies gentle pressure or manipulations to targeted areas of the body.
MAKING THE MOST IMPORTANT PART OF YOUR LIFE MORE ENJOYABLE
Bringing a child into this world is a selfless act that calls for many sacrifices on the part of the parent, and thanks to innovative osteopathic techniques, pain doesn't have to be one of them. At Integrative Pain and Wellness Center, Dr. Barker and Dr. Gray use manual methods to reduce pain throughout your body, relieve tension, and improve your body's overall function. Whether you're in your early stages of pregnancy, have recently given birth, or now have a full-grown toddler, osteopathic manipulative treatment can work wonders for you and your child's needs. Contact our office in Southlake, TX to schedule your appointment.
Related Procedures
Related Posts