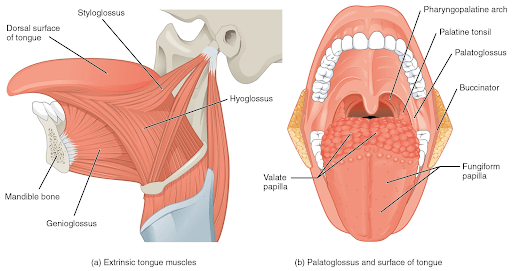 The tongue is a muscular organ that is responsible for countless daily functions, such as speech, taste, digestion, expressing affection, breathing, drinking, and even cleaning. However, some people may complete these actions with difficulty or impairment. One condition that can lead to reduced movement in the tongue is ankyloglossia or tongue-tie. Having suffered from this himself, osteopathic physician Dr. Matthew Barker has carefully studied the effects of tongue-tie in children, teens, and adults alike. At Integrative Pain and Wellness Center, Dr. Barker and Dr. Gray are proud to help prepare patients for a tongue-tie release to free the tongue, improve oral movement, and enhance your overall quality of life. If you think you may have tongue-tie or tethered labial frenulums (lip tie), contact our office in Southlake, TX and the surrounding areas of Midland and Odessa, TX and schedule your private appointment with a member of our team.
Tongue-tie and lip tie are congenital conditions that occur in roughly 5% of the population, making them more common than most people believe. These conditions affect a larger percentage of men than women. Some issues that you may experience if you have ankyloglossia or tethered labial frenulums include:
Feeding difficulties in newborns
Muscle tightness
Speech issues or swallowing problems
Obstructive sleep apnea (OSA)
Teeth crowding
Nasal congestion
Poor posture
Neck pain
Headaches
TMD (temporomandibular joint disorder)
A dental cross-bite
Teeth grinding (bruxism) or jaw clenching
Disproportionate growth of the mandible and maxilla
HOW IS TONGUE-TIE TREATED?
To treat tongue-tie in kids, teens, and adults, our team at Integrative Pain and Wellness Center will perform Osteopathic Manipulative Treatment to help prepare you for a tongue-tie release, which can be done using laser technology or medical instruments. To start off, Dr. Barker or Dr. Gray will first hold a consultation with you to determine if you have ankyloglossia or lip tie. Once this has been identified, we will craft your personalized treatment plan that will consist of the removal of the tissue connecting your tongue or lip to your mouth, pre- and post-operative exercises to reintroduce proper tongue and lip movement, and pre- or post-operative osteopathic manipulative treatment (OMT).
FREE MOVEMENT AND PAIN RELIEF
At Integrative Pain and Wellness Center, our team works hard to ensure your daily comfort and relief from pain. There are many factors that can lead to discomfort that you may not even know about, such as tongue-tie and lip tie, conditions that cause the tongue or lip to be too closely tethered to the lower portion of the mouth. Our Southlake, TX office works at every angle to determine the cause of your pain and eliminate it at its root. Contact our facility to schedule your one-on-one with Dr. Barker or Dr. Gray and find out what living a life of comfort truly means.
Related Procedures
Related Post