What is RF Skin Resurfacing?
Radiofrequency (PixelRF) skin resurfacing at Integrative Pain and Wellness Center is a nonsurgical aesthetic treatment that utilizes pin-sized needles similar to a dermaroller to ablate the skin to eliminate dead and damaged skin on the surface while at the same time sending radiofrequency waves to promote collagen and elastin layer by layer. This treatment is done to address facial wrinkles and lines and reduce the appearance of skin blemishes, like acne scars, pigmentation, and other flaws. PixelRF skin resurfacing is a great procedure for patients hoping to achieve clearer, softer, younger-looking skin. Based on your individual needs our PixelRF treatment is completely customizable for your best results. Your skin begins to heal the moment we finish the treatment and can take anywhere from 3-7 days to fully heal. We are happy to answer any of your concerns or questions. Our PixelRF treatment is completely safe and produces lasting results. To find out more about the skin benefits associated with this treatment, reach out to our office today. Our premier facility employs the safe and effective Accent Prime Pixel to perform RF skin resurfacing.
Reviews
"We have had a great experience with Dr. Barker! Our newborn had a tongue and lip tie revised, and Dr. Barker worked with her to relieve restrictions. In three sessions, she has gone from a poor sleeper in constant discomfort to a happy, relaxed baby. He helped loosen up her tongue restrictions and she is nursing much better (and my pain is gone)! I highly recommend Dr. Barker."
- K.P. /
Google /
Jun 24, 2020
"Dr. Barker has helped me turn my health around without the use of harmful medications. I was diagnosed with RA and didn't want to take the meds with horrible side effects. He has helped get my RA under control, I am off my cholesterol and blood pressure meds. He has helped with hormone treatment which has improved my life tremendously. And at the young age of 60 I feel fabulous thanks to Dr. Barker."
- C.F. /
Google /
Feb 05, 2020
"Dr. Barker is a very friendly, thorough, and talented provider. I'm very satisfied with the pain relief I've experienced from his treatments."
- L.C. /
Google /
Jan 05, 2020
"She is the best doctor I ever had"
- R.W. /
Healthgrades /
Sep 14, 2021
"I had seen multiple doctors including a primary care physician and dermatologist regarding severe back acne and nobody was able to help me. After one session with Isabel I saw tremendous results. I have seen her two more times since and my back is like night and day. She is amazing and really knows what she's doing! I would highly recommend. I also saw Dr. Barker for Bodyworks and allergy testing. He is phenomenal. I will absolutely be a lifelong patient."
- A.K. /
Google /
Jun 25, 2021
Previous
Next
candidates for rf skin resurfacing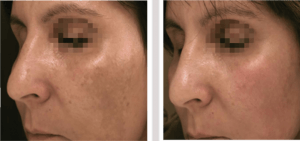 There are multiple factors to take into consideration when it comes to selecting the appropriate treatment for your skin needs. PixelRF skin resurfacing is geared toward people who are unsatisfied with their skin's appearance. If you have sun-damaged skin, acne scars, age spots, fine lines and wrinkles, redness, skin laxity, or pigmentation troubles, a skin resurfacing procedure with the Accent Prime Pixel may be performed to diminish these imperfections. In addition, PixelRF skin resurfacing works effectively for those who have a rough texture, scaly patches, or other irregularities.
Throughout the procedure, you will relax in our treatment bed while the device's handpiece glides over the skin, directly targeting the needed sections for resurfacing. A topical anesthetic is applied to the skin to reduce discomfort. Our amazing team and technology of Accent Prime allow us to customize your treatment for your comfort level. PixelRF skin resurfacing can be performed on the face, neck, décolleté, or anywhere you hope to achieve improved skin texture and tone.
How much does PixelRF skin resurfacing cost?
The cost for a PixelRF skin resurfacing treatment will vary on your case and how many treatments are needed to deliver your ideal results. During your first visit, Dr. Barker, Dr. Gray, or a member of their team can answer all your concerns and estimate the cost of your treatment.
How many RF (radiofrequency) skin resurfacing treatments should I get?
Each patient is different — so some patients may want more procedures compared to other patients. Our team will take the time to perform a complete assessment of your complexion and consider your goals to help estimate how many sessions you will need. Typically, many people get 3 – 4 treatments done about a month apart.
What are the benefits of RF skin resurfacing?
The PixelRF skin resurfacing procedure is safe and effective for most skin types and conditions. RF skin resurfacing treatments offer impressive results and minimal recovery time if you want to improve the look of your facial skin and aren't ready for a surgical facelift to look younger. RF skin resurfacing is also a great option to update the appearance of your skin a few years after a surgical lift.
Does RF skin resurfacing hurt?
After a local anesthetic is applied to the skin, you should have little to no discomfort during treatment. During the procedure, our team will ask to ensure you're doing all right. When the local anesthesia wears off, you may feel mild discomfort briefly while your skin heals. Some patients say it feels somewhat like a mild sunburn during the short recovery period.
Can I combine RF skin resurfacing with other treatments?
Although RF skin resurfacing can deliver amazing results by itself, you may consider getting it with a second treatment for even more impressive improvements. During your consult, our team will listen to your goals about your face and body before suggesting PixelRF skin resurfacing and/or other procedures.
A Softer, Clearer Complexion
At Integrative Pain and Wellness Center, PixelRF skin resurfacing procedures produce excellent outcomes if you want a younger-looking appearance. If you are curious about skin resurfacing and want to learn more about the benefits associated with this treatment, along with other nonsurgical services at our Southlake, TX practice, we encourage you to call us today to schedule your consultation with a member of our team.
Related Treatments
Related Posts