What is RF Skin Resurfacing?
Radiofrequency (PixelRF) skin resurfacing at Integrative Pain and Wellness Center is a nonsurgical aesthetic treatment that utilizes pin-sized needles similar to a dermaroller to ablate the skin to eliminate dead and damaged skin on the surface while at the same time sending radiofrequency waves to promote collagen and elastin layer by layer. This treatment is done to address facial wrinkles and lines and reduce the appearance of skin blemishes, like acne scars, pigmentation, and other flaws. PixelRF skin resurfacing is a great procedure for patients hoping to achieve clearer, softer, younger-looking skin. Based on your individual needs our PixelRF treatment is completely customizable for your best results. Your skin begins to heal the moment we finish the treatment and can take anywhere from 3-7 days to fully heal. We are happy to answer any of your concerns or questions. Our PixelRF treatment is completely safe and produces lasting results. To find out more about the skin benefits associated with this treatment, reach out to our office today. Our premier facility employs the safe and effective Accent Prime Pixel to perform RF skin resurfacing.
candidates for rf skin resurfacing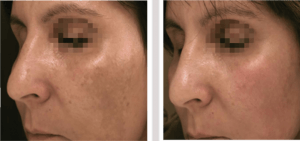 There are multiple factors to take into consideration when it comes to selecting the appropriate treatment for your skin needs. PixelRF skin resurfacing is geared toward people who are unsatisfied with their skin's appearance. If you have sun-damaged skin, acne scars, age spots, fine lines and wrinkles, redness, skin laxity, or pigmentation troubles, a skin resurfacing procedure with the Accent Prime Pixel may be performed to diminish these imperfections. In addition, PixelRF skin resurfacing works effectively for those who have a rough texture, scaly patches, or other irregularities.
Throughout the procedure, you will relax in our treatment bed while the device's handpiece glides over the skin, directly targeting the needed sections for resurfacing. A topical anesthetic is applied to the skin to reduce discomfort. Our amazing team and technology of Accent Prime allow us to customize your treatment for your comfort level. PixelRF skin resurfacing can be performed on the face, neck, décolleté, or anywhere you hope to achieve improved skin texture and tone.
A Softer, Clearer Complexion
At Integrative Pain and Wellness Center, PixelRF skin resurfacing procedures produce excellent outcomes if you want a younger-looking appearance. If you are curious about skin resurfacing and want to learn more about the benefits associated with this treatment, along with other nonsurgical services at our Southlake, TX practice, we encourage you to call us today to schedule your consultation with a member of our team.
Related Treatments
Related Posts