What is RF Skin Tightening?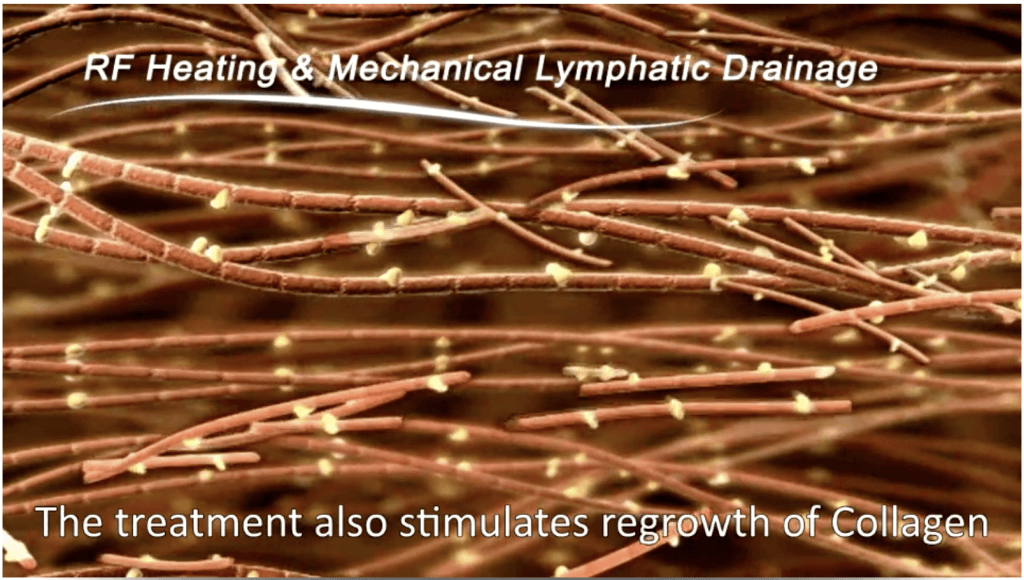 When you're born, your body has ample stores of nutrients (collagen and elastic) that keep your complexion looking smooth, feeling supple, and glowing youthfully. As your body's natural supply of collagen and elastin deplete, your skin begins to change by accumulating wrinkles, sagging, a lack of firmness, and becoming more uneven in tone and texture. If you've noticed these changes and want to restore the radiance and suppleness of your skin, our team at Integrative Pain and Wellness Center in Southlake, TX performs radiofrequency (RF) skin tightening utilizing the Accent Prime. RF energy and mechanical massage increase metabolism of adipose tissue-reducing fat cell volume, stimulating lymphatic drainage and visibly smoothing the texture of the skin. With this device, we are able to encourage the production of collagen and elastin in your skin to produce a firmer, healthier complexion. During your consultation, a member of our team will meet with you to learn all about your concerns and goals and determine if RF skin tightening is the right solution for you.
What Are The Benefits Of RF Skin Tightening?
An RF skin tightening treatment plan using the Accent Prime platform can produce dramatic results to refresh and rejuvenate your look with benefits that include:
Tightening loose, sagging skin
Creating a more youthful appearance
Stimulating collagen and elastin production
Improving the contour of the face and body
Boosting skin health
Enhancing skin texture
Offering treatment for multiple body areas
Pairing with other treatments for expanded results
Quick, pain-free procedure
No downtime
No scarring
Reviews
"We have had a great experience with Dr. Barker! Our newborn had a tongue and lip tie revised, and Dr. Barker worked with her to relieve restrictions. In three sessions, she has gone from a poor sleeper in constant discomfort to a happy, relaxed baby. He helped loosen up her tongue restrictions and she is nursing much better (and my pain is gone)! I highly recommend Dr. Barker."
- K.P. /
Google /
Jun 24, 2020
"Dr. Barker has helped me turn my health around without the use of harmful medications. I was diagnosed with RA and didn't want to take the meds with horrible side effects. He has helped get my RA under control, I am off my cholesterol and blood pressure meds. He has helped with hormone treatment which has improved my life tremendously. And at the young age of 60 I feel fabulous thanks to Dr. Barker."
- C.F. /
Google /
Feb 05, 2020
"Dr. Barker is a very friendly, thorough, and talented provider. I'm very satisfied with the pain relief I've experienced from his treatments."
- L.C. /
Google /
Jan 05, 2020
"Dr Gray is great at what she does! Give them a try."
- S.B. /
Facebook /
Jun 01, 2022
"She did a great job, you deserve an accolades on this Mrs Cathy Frederick can't explain myself right now, what I received on my wallet was so great an amazing of the huge amount, Please all you have to do is to contact her and be a part of this online investment. I made $5,550 just little investment of $700, I made that thanks Mrs Cathy Frederick her info Email: [email protected] WhatsApp: +18504466717"
- M.L. /
Facebook /
Feb 20, 2022
Previous
Next
Who Makes A Great Candidate For Treatment?
RF skin tightening may be performed on many areas of the face and body, such as the abs, under the chin, inner/outer thighs, and upper arms. The best patients for this procedure are those who:
Are in good general health
Are maintaining a stable weight
Have mild or moderate skin looseness
Exhibit signs of aging on their face or body
Want to enhance the firmness and aesthetics of their skin
How RF Skin Tightening Works
Before your session begins, the areas to be treated will be sanitized to eliminate any makeup, dirt, or oil. The majority of patients find that this treatment is relatively comfortable. As soon as you are ready, the Accent Prime handpiece will be evenly passed over the skin multiple times for the most effective outcome. The energy emulating from the device stimulates the body to tighten and firm the skin. A session may take about 30 – 90 minutes, depending on the size and number of areas being treated. After the therapy is complete, you'll be allowed to leave and resume your normal routine.
How Long Is Recovery After RF Skin Tightening?
Following your treatment, the targeted skin may appear pink or irritated, and the skin may feel numb. However, any swelling should fade within a few days. When you have your consultation at Integrative Pain and Wellness Center, Dr. Barker or a member of his team will give instructions on the best techniques to preserve your skin after your session and achieve optimal results. As you heal, remember to use moisturizer and protect your skin from the sun. While some can see results after their first session, most individuals won't notice outcomes immediately after their treatment. Since the production of collagen and elastin can take time, you will see your best outcomes in the next few months. Outcomes following RF skin tightening generally remain in place for many years.
How long do results last for RF skin tightening?
Results from RF skin tightening tend to last a long time. In most cases, men and women can enjoy their new outcomes for years. This is because RF technology can stimulate new collagen production, which helps maintain tighter and smoother skin. Patients should continue to protect themselves from UV rays and use sunscreen to extend their results.
How many treatments should I get?
Generally speaking, the more treatments you receive, the better results you will have. Results begin to be noticeable after several appointments and typically continue to improve with each session. Integrative Pain and Wellness Center can make custom recommendations for RF skin tightening based on your skin elasticity and cosmetic goals.
Should I get RF skin tightening or surgery?
RF skin tightening heats the underlying tissue to increase collagen and improve the elasticity of the skin for long-term results. This technique saves patients from invasive surgery and weeks in recovery. The results are also far more natural-looking than what surgery can offer. You may want to consider plastic surgery if you have severely loose or excess skin.
TONE AND TIGHTEN YOUR SKIN
If your goal is to keep your skin firm and tight for as long as possible, schedule an appointment with our team to learn more about radiofrequency skin tightening. As an effective, noninvasive treatment that requires no recovery time after the appointment, this procedure can revitalize the health and tone of your skin when you notice the first signs of age lines, wrinkles, and sagging. Receive your customized treatment plan for RF skin tightening when you visit Integrative Pain and Wellness Center in Southlake, TX.
Related Treatments